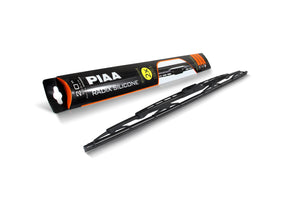 Description
Key Features:
The PIAA Radix Silicone Wiper features the classic exo-frame design enhanced with more pressure points to provide a smooth, clean, streak-free wipe with easy installation.
Durability – High quality PC cover with an aerodynamic design for maximum performance in any weather condition.
Silicone Rubber – Maintains a sharp, clean edge and offers better resistance to all environments (Ozone, Temperature Extremes).
Design – The aerodynamic design gives your vehicle a premium look while eliminating wind lift and blade chatter.
Silicone Wipers last up to 2x longer than standard wipers
Coats windshield with water-repellent silicone with every wipe
Aerodynamic cover ensures quiet and streak free wiping at all speeds
Silicone rubber resists wear and damage from UV and sunlight exposure
Clearer vision even when wipers aren't wiping