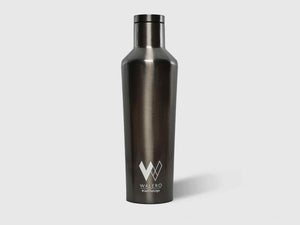 Description
Here at Walero, we know that hydration is key to maximising your performance. 
Introducing our brand-new insulated Walero water bottle, developed with Corkcicle. This slick-looking metallic bottle promises to keep your drinks cold for up to 25 hours and hot for up to 12.
It doesn't matter what the outside temperature is, the bottle's triple insulation will keep your drink at the optimum temperature – perfect for cooling down during sports and exercise or for warming up after a brisk winter walk.
How do insulated bottles keep drinks hot or cold?
Our water bottles are triple insulated and made from premium grade stainless steel ensuring your drink stays at the perfect temperature for as long as possible.
This means that, whatever the temperature, your Walero insulated bottle will keep your drink at the temperature you need it to be – whether that's nice and toasty or cool and crisp. 
FEATURES
Triple Insulated Water Bottle

Keeps drinks cold for up to 25 hours or hot for up to 12 hours

Perfect for the gym, sports and exercise

A must-have for the commute!

Stay-put silicone bottom to prevent spills and ensure your bottle is quiet when you place it on a surface

Includes screw-on cap

Easy-grip featuring easy to hold flat sides

Wide mouth easily fits ice cubes

Vacuum sealed

BPA and lead-free
Help the environment by ditching harmful bottles and cutting back on single-use plastics and investing in a reusable Walero Bottle. Switching to an everyday water bottle can save you money in the long run but more importantly help save our planet!