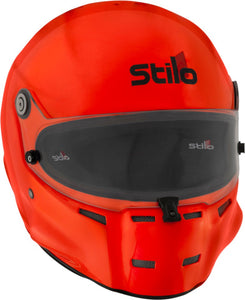 Description
Snell SA2020 & FIA 8859-2015 Approved
Smallest Shell Size In Its' Class
Lightweight
The Stilo ST5 Offshore helmet picks up from the previous version, the ST4, left off and has been developed after meticulous and inexhaustible research for perfection. Pushing the standards of safety and quality even further, the Stilo ST5 is now the benchmark for all competitors.
This new model is lighter, uses a smaller shell, has increased vision with a visor which lifts fully out of line of sight, is more comfortable, has better aerodynamics, has better ventilation and uses a new visor locking clasp which can easily be operated with just one hand. Another important first is the large size helmet now uses the small shell size which in turn means more competitors fit into the smaller, lighter and more aerodynamic small shell size.
Factory painted in a bright orange colour, this particular helmet has been optimised for use in Powerboat racing and is fitted with Stilo's superior WRC intercom system that includes: noise attenuating earmuffs which are fitted with speakers, magnetic-dynamic noise cancelling microphone, fully integrated intercom plug. Although this helmet is not factory fitted with FHR (HANS) Clips, they can be fitted and are available separately.
Other features include:
Integrated Plugs: No more hanging cables and possible breakages. The whole electronics package is integrated into the helmet as well as the plug connecting to the intercom. The plug is on the right hand side of the helmet.
Adjustable Microphone: Magnetic-dynamic noise-cancelling microphone. Supplied with spacers to move the microphone position closer to the driver's mouth.
Earmuffs: Offer excellent isolation from external noises and contain the intercom speakers. The pressure on the head from the earmuffs can be adjusted by changing the special foam rubber pads positioned between the earmuff and the helmet.
Peak: Adjustable peak specifically designed to shade from the sun.
Drinks System Connection Plug: Built in to the helmet on the left hand side is the optional drinks system port. Allowing the driver to easily stay hydrated during a competition and with quick release couplings also making it easy to enter and exit the car.
Double Shell: Two different shells: one for small sizes (XS, S and M) and one for large sizes (L and XL).
Snell SA2020 & FIA 8859-2015 Approved