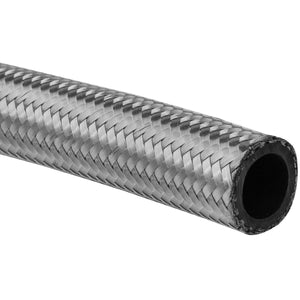 Description
ProPLUS Race Hose - Nitrous, Brake, Fuel Hoses & Fittings
ANTI-STATIC PTFE COMPATIBLE WITH ALL AUTOMOTIVE FLUIDS AND FUELS A highly compressed, non-porous matrix that is resistant to fuel permeation and diffusion.
SMOOTH INTERNAL TUBE For superior flow rates, minimum pressure drops AND ease of clean-out, not possible in convoluted hoses.
EXTERNAL CONVOLUTIONS Promotes hoop strength for vacuum resistance and supports tight bend flexibility.
NEW XRP RACE CRIMP HOSE ENDS Black is "in" and it is our standard color; Blue and Super Nickel are options. Hundreds of styles are available. Your choice of full hex or lightweight turned down swivel nuts.
CRIMP COLLARS Two styles allow XRP Race Crimp Hose Ends to be used on the ProPLUS Race Hose, Stainless Braided CPE Race Hose, XR-31 Black Nylon Braided CPE Hose and some convoluted PTFE hoses currently on the market. Black, Gold and Super Nickel.
PATENTED MANUFACTURING PROCESS Creates a full PTFE smooth-bore hose with external convolutions only on the outside of the tube wall, where they belong for flexibility, not on the inside where they can impede flow.