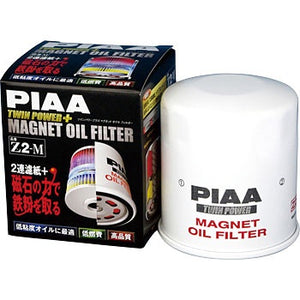 Description
Serious about taking care of your car engine? How serious? If you only want the best for your ride, then look no further. The PIAA Twin Power Plus Magnet Oil Filter is all you need. The 2-layer paper element filtration allows for more effecient flow. It's enlarged oil inlet port also enhances oil filtration while effectively eliminating power loss. A strong magnet catches the finest metal debris ensuring they never pass through and damage your engine.
FEATURES
2-layer paper element filtration system. This structure allows oil to flow effeciently and evenly through the chamber.
Utilization of enlarged oil inlet ports enhancing oil filtration and effeciently eliminating power loss.
A strong magnet with 100 militesla (1000 gauss) catches the metal debsris coming from the engine from the outside of the inner tube. The magnet is on the outside of the filter paper, reducing the load on the filter paper.
Strengthening coil spring adopted. Even during high-pressure, or movement inside of the element, does not deform.
White in color so you know its still there.
PRODUCT SPECIFICATIONS
Made in Japan
Weight: 240 grams
Product dimensions: 7.7 x 8.0 x 9.2 cm
Model: Z2-M
Product is available on back order. Ships in 14-21 days.