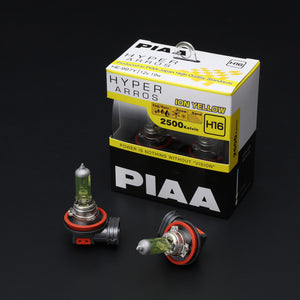 Description
For a light that cuts straight through even the harshest weather conditions with a bold yellow light beam, try the PIAA Hyper Arros Ion Yellow.
Why buy the PIAA Hyper Arros Ion Yellow H16 (Twin)?
With the Hyper Arros Ion Yellow range of car headlight bulbs, PIAA have answered the age-old question of how best to ensure clearer vision in adverse weather conditions. The Hyper Arros Ion Yellow design (by Japanese automotive lighting experts, PIAA) allows for a significantly better sight thanks to a lower-than-standard colour temperature of 2500K, characterised by a penetrating yellow light colour.
Not only does the Hyper Arros Ion Yellow's projection stand out more in terms of style, but PIAA have specifically achieved this unique 2500K light colour to make use of its ability to shine through any number of harsh climates. The Hyper Arros Ion Yellow as such can project a vastly superior, clearer path than standard through a variety of otherwise imposing natural elements: be it rain, fog, snow or even sand.
Whatever the weather, the vivid yellow light of PIAA's Hyper Arros Ion Yellow will hold you in good stead.  
Features and benefits
2500K – specially lowered colour temperature
Vivid yellow light projection
Enhances sight through poor weather conditions (rain, fog, snow, sand etc)
Both high-performing and stylish light
10cm black PIAA logo sticker included
Not road legal – for off-road applications only
Manufactured in Korea
One year PIAA warranty
About PIAA
Since being founded in 1963, the PIAA Corporation has committed itself to the development of technologically advanced, safer automotive lighting. PIAA's world-class products, ranging from driving lights and fog lights to high output replacement bulbs, are the result of the company's tireless, progressive engineering, and uncompromising work ethic. Their aim is simple: give the customer the best-quality product available.