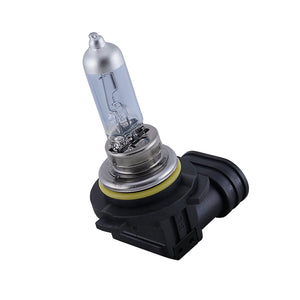 Description
Bringing you brilliant light without compromising safety or longevity – PIAA's Hyper Arros range offer a terrific balance between bulb life and performance.
 
Why buy the PIAA Hyper Arros HB4 (Twin)?
Offering both safety and illumination, PIAA's Hyper Arros headlights series provides vehicles with a far-reaching, strong light whilst still adhering to ECE regulations – meaning you can drive on the road safer and more aware of your surroundings than ever before. As well as possessing an increased colour temperature of 3900K, the Hyper Arros also achieves 120% more light than a standard halogen bulb.
The blue-glass appearance of PIAA's Hyper Arros allows you to add some extra style to your vehicle; while the bulb's robust construction (including a heat-resistant glass design) ensures a long bulb life, meaning that you can rely on the safety and sight your Hyper Arros bulbs afford you night after night after night.
 
Features and benefits
3900K bright light colour for safety and style
Heat-resistant glass for long life
120% more light 
Durable design
Road legal – ECE compliant
Japanese design
About PIAA
Since being founded in 1963, the PIAA Corporation has committed itself to the development of technologically advanced, safer automotive lighting. PIAA's world-class products, ranging from driving lights and fog lights to high output replacement bulbs, are the result of the company's tireless, progressive engineering, and uncompromising work ethic. Their aim is simple: give the customer the best-quality product available.