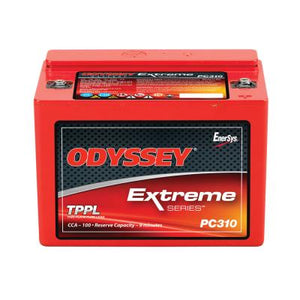 Description
Odyssey Extreme Racing 8 Battery PC310. Odyssey Extreme racing batteries feature rugged construction and tightly packed pure lead plates. The non-spillable AGM design protects against shock and vibration that can often destroy other batteries. The pure lead plates make for twice the amount of power of a normal battery and a lifespan 3 times as long.

Odyssey Extreme Racing 8 Battery PC310 measures 138mm long, 86mm wide and 99mm high. Weighs 2.7kgs and has M4 female terminals. Cranking current rating of 310 Amps.

Please note: All Odyssey batteries must be kept in a good state of charge. Any battery left in a discharged state will invalidate the warranty. We highly recommend that the instruction booklet provided with the battery is read prior to and during use. Please contact us if you have any questions, we are happy to help. 
CCA 100