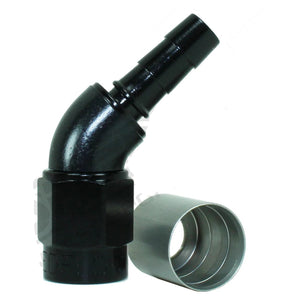 Description
We have looked at the issues commonly found with mechanical injection lines, technology that has not changed in many decades! As pressures increase and flow is more critical than ever in high horsepower alcohol engines, failure of these lines has become more common. 
Introducing the new Speedflow range of hose ends, these are lightweight, strong and high flowing! The 45° & 90° hose ends are a true flowed one piece formed bend allowing the best possible flow to the nozzle. We have male threaded hose ends also available in 3/8"-24 O-ring Port and NPT to give the option of screwing directly into the distribution blocks. The crimp collars are made from 6061-T6 aluminium and require a crimp machine to crimp to the correct diameter. We have pressure tested these hoses to exceed the burst pressure of the hose without the hose ends failing!
Manufactured in Australia from 6061-T6 aluminium and hard coat anodised to withstand the harsh environment these hoses encounter!