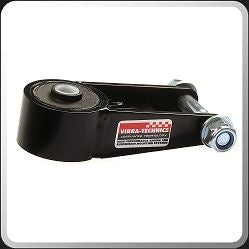 Description
The OE link allows too much engine movement for serious driving on this powerful car. We have designed and developed a direct replacement which significantly reduces engine pitching with a small increase in transmitted vibration at low engine speeds. This will give the car a 'tighter' feel and make driving hard through the gears a more positive
Replaces Ford part number 1533046
Fits Volvo & Ford applications using the B5254T3 engine (FWD and AWD):-
Ford Focus ST, RS ('05-)
Volvo (T5) C30, S40, V50 and C70
IMPORTANT NOTE:-
The Vibra-Technics link uses is a fully bonded bush. The inner and outer tubes are bonded to the rubber section to a strength of over 1000psi then stress-relieved so that all forces are distributed throughout the bonded area. As a result the bush cannot become oval so there is no change in performance over time. We manufacture the most durable high performance product available on the market.
Stock Status:  Available To Order
This product is available for special order. Special orders are shipped in two steps from our international suppliers to Racelab HQ , then to you.