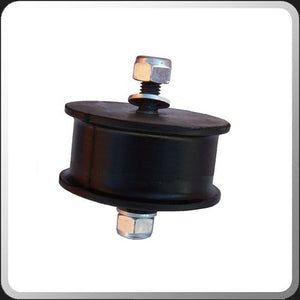 Description
A traditional 'Bobbin' mounting which when installed as a pair in an inclined system (in line engine) gives a good compromise between engine movement control and isolation from noise and vibration. The VM450 in 'fast road' compound will still give a degree of isolation from noise and vibration.
As with the orignal Ford application, this mount is not fail safe
The mount is 76mm diameter and 36 mm high
Check the dimensions of your original mount before ordering.
Stock Status:  Available To Order
This product is available for special order. Special orders are shipped in two steps from our international suppliers to Racelab HQ , then to you.