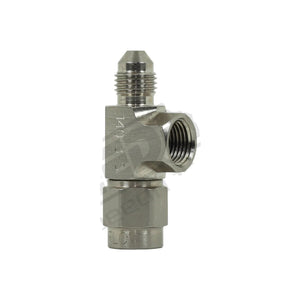 Description
Speedflow is a leading manufacturer of performance fittings, produced from our facilities in Taree NSW, Australia!
The 140 Series steel adapters are a female to male AN fitting with a 1/8" NPT port in the machined tee centre. This is a great fitting for senders, gauge lines or if you need to run a small hose such as an oil feed for a turbo. The female swivel allows you to point the 1/8" port in any direction you desire.
Available in AN sizes -3 and -4.
Our Steel adapters are made from quality Steel and Electroless Nickel Plated in house to give a great finish with excellent corrosion properties.