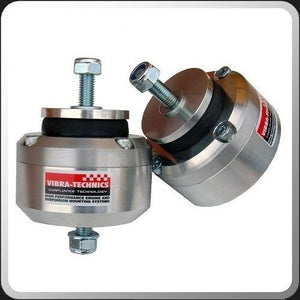 Description
The original equipment engine mounts are designed to give a soft, comfortable ride in road car applications. This results in excessive engine movement which affects gear selection, cornering and braking when the car is driven on the track.
Vibra-Technics have created this mount to give the "sporty" feel back to M3 and 320si. It is ideal for track day cars or drivers who want a race car feel to their road car.
The engine mount has a billet machined housing and a rubber insulator at its core. It is completely fail safe.
Price is for a single mount. Two mounts are required for a car set.
Replaces OEM part number:-
11812225598
11811417407
Stock Status:  Available To Order
This product is available for special order. Special orders are shipped in two steps from our international suppliers to Racelab HQ , then to you