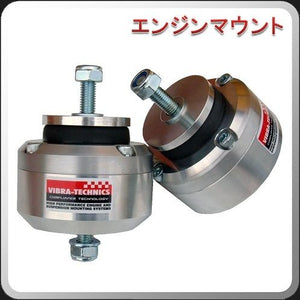 Description
These engine mounts are specifically designed to give uncompromising performance for all forms of competitive motorsport. They are tuned to give the maximum level of control over engine movement under the most extreme driving conditions.
The use of a natural rubber insulator element gives vastly superior comfort and isolation from engine vibration over inferior aftermarket urethane or "solid" mounts. They also do not suffer from the problem of the engine sitting too high which can happen with OEM style mounts made in harder rubber.
This mount would be a good choice for 6 and 8 cylinder conversions where it has ample capacity to take the extra weight and power.
There is a 1kg weight saving per pair over the standard mounts.
Replaces OEM part numbers:- 1121065F11 (right), 1122085F00 (left), 1122065F01 (left), 1122065F06 (left)
Replaces Nismo part numbers 11210-RS540 & 11220-RS540
Price quoted is for a single mount
Drift-Max Pro™ is a trade mark of Vibra-Technics Automotive Limited.
Stock Status:  Available To Order
This product is available for special order. Special orders are shipped in two steps from our international suppliers to Racelab HQ , then to you