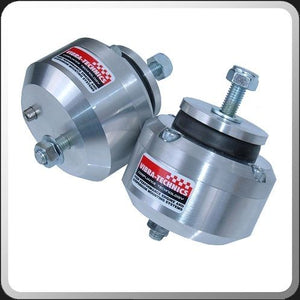 Description
The original equipment engine mounts are designed to give a soft, comfortable ride in road car applications. This results in excessive engine movement which affects gear selection, cornering and braking when the car is driven on the track. In racing applications the OEM mounts are prone to premature failure of the rubber section and fracturing of the base of the pressed steel housing.
Vibra-Technics have listened to BMW racing teams and have created this ultimate engine mount for motorsport applications.
Unlike the expensive BMW Group N parts which are just standard mounts in a harder rubber compound this engine mount is purpose designed for racing applications. Our mount is designed without compromise and combines a 6082 billet aluminium housing with a high shear modulus rubber insulator at its core. It is completely fail safe making it ideal for competition car applications and overcomes all the weaknesses of the OEM design.
Price is for a single mount.
Replaces OEM part:-
11812283798
11811140985
11811141377
11817837985
22002224413 (Motorsport)
11812224413N (Motorsport)
22111095444
Stock Status:  Available To Order
This product is available for special order. Special orders are shipped in two steps from our international suppliers to Racelab HQ , then to you.