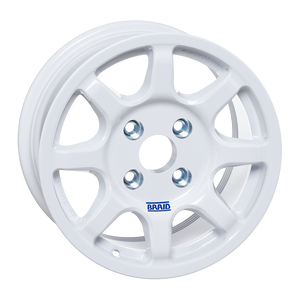 Description
The Fullrace and it's technology is a compendium of all of Braid's experience in competition through the years, incorporating the latest technological advances.
The Flowcast technology allows a suitable arrangement of the aluminium alloy structure increasing it's mechanical characteristics, resulting in a lighter wheel, more resistant, and much higher capacity of deformation at very strong impact, avoiding cracks.
The advanced microwave profile on the inner rim flange developed by Finite Elements increases the stiffness of this area while the work of computer aided design is completed with dimensional optimization of the spokes adding extra strength.
In short, it's a technological cutting-edge wheel with less weight and strong resistance.
Fullrace B
Width
7″
Diameter
14″
Holes
1, 3, 4, 5, 6
Offsets
+5 to +55
Application
Gravel, Rally Raid
Contact us for price and availability